It's VeganMoFo! What's VeganMoFo? Find out at http://www.veganmofo.com
As you might have guessed from the title of this post...I really, really, really really really like popcorn. Really. A lot.
A couple years ago, I discovered that I could pop popcorn on the stovetop. I knew, in theory, that it was a thing that could be done, but I had never actually tried it, out of fear that I might set something on fire or something silly like that. But then I learned how to actually do it without burning anything, and my life has changed forever. No joke.
It's taken a little tweaking to get the proportions and strategies just right, but this method yields exactly the amount of popcorn I want to eat, at the ideal level of crispness for my personal preference.
2 Tbsp plus a teeny bit more vegetable oil (canola oil is fine, but do not use olive oil!)
a little bit less than 1/4 cup popcorn kernels
Before you start, make sure you have the bowl in which you're going to serve the popcorn ready and sitting right next to the stove. When the popcorn is done popping, you're going to want to get it out of the pot RIGHT AWAY, so have that bowl ready and waiting!
Put the oil in a small-to-medium sized saucepan/pot. Turn the heat to medium, a little on the low side if you know your stove runs hot.
Put 4 unpopped kernels in the pot. Cover the pot.
As soon as all 4 kernels have popped, put the rest of the kernels into the pot. IMMEDIATELY remove the pot from the heat.
Now dance around the kitchen shaking the pot for 30 seconds. Keep the lid on and keep those kernels moving! Some may start to pop while you're doing this. That's fine.
Return the pot to the stove. The popcorn will start popping like mad very quickly, if it hasn't already. DO NOT go do something else...stay right there with the popcorn! As soon as you can count to 3 between pops, it's done. Remove it from the heat RIGHT AWAY and pour the popcorn into the serving bowl. Do not leave it in the pot even for a minute or it will burn.
TA DA! Popcorn!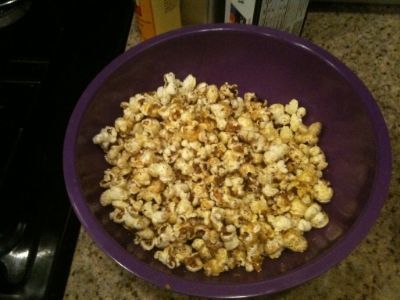 Popcorn in my favorite purple popcorn bowl.
My current favorite way to season popcorn:
1 Tbsp melted Earth Balance soy butter
1 1/2 Tbsp nutritional yeast
2 tsp smoked cumin
a few shakes of garlic powder
1/2 tsp black pepper
1/4 tsp Vulcan Fire Salt
What's Vulcan Fire Salt? Oh, it's just THE BEST STUFF EVER. You can order it from
The Spice House
, which is an independent, local-to-Chicago business that sells every imaginable spice and a few you couldn't possibly have imagined, like...this one. A friend of mine works there, so I got The Grand Tour when I went to visit Chicago last year, and when I saw that a thing called Vulcan's Fire Salt existed, it was obvious that I needed to become one with it. It's amazing. If you like anything at all spicy, give this stuff a try.
4.5oz jar of Vulcan's Fire Salt from The Spice House. Ingredients list is shown: Salt, Louisiana chile, garlic, Habanero Chile, shallots, pepper, lime, Pimenton, cumin, allspice & vinegar.